I did not think I was going to go to a Tyler, The Creator concert. The rapper/producer was not the music I needed or was checking for when I was 21 in college and he was 20 riding on Jimmy Fallon's back. A little over a month from saying "what up" to 30, I was in attendance for a live rendition of selections from arguably my favorite album of 2019. I sat next to someone that just became a fan this year, while longtime fans in front of me were near tears and I felt comfortable in the middle of the fandom, at just the right time.
Old age provides maturity for those lucky enough to recognize that the childish habits they enjoyed yesteryear are no longer necessary. Tyler, The Creator isn't donning a donut hoodie and ski mask anymore. A blonde wig that amazed me because for the hour set, it stayed mostly in place, never leaving his scalp and a green suit are his work attire now. I, on the other hand, rolled out of bed in my black UNCF shirt from high school, some jeans, and my dirty Vans, and ventured to The Theatre in Grand Prairie. 2005, I was in the mall trying to find the perfect outfit for my first concert as this very venue. I wore a new black and white Rocawear shirt with my rhinestone dog tag to Kanye West's Touch The Sky tour. I haven't been to this venue in so long it changed names. The last time I was spectator at the Verizon Theatre was for the Gospel competition How Sweet The Sound.
By God's Amazing Grace, I am able to write this story. Tuesday night, Wednesday morning was a night of dealing with my cough and sore throat. Coincidentally, our headliner, with the great personality he has, shared which moment he was supposed to pander to the tour stop. "This is the part of the show where I mention something about Dallas, but I didn't do shit. Don't boo me. I was sick." Transparency, never faking, that's why you love or hate him. I got to take this moment to apologize to Goldlink and Blood Orange, but I was not in a hurry to see them open. I caught three songs from Blood Orange's set and believe that he's the music I need to play on Sundays or when I am cleaning. I always had the fear of a Tyler concert being similar to Gathering of the Juggalos but it was cool vibes and cosplay. Blood Orange threw roses out to the crowd as his five piece band and two background singers kept on performing. There were several blonde wigs in the buildings and bless the ones that dressed in the full suit from this Igor era of Tyler's career.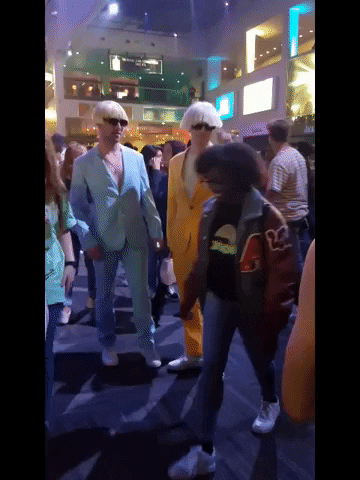 Saying Gap Tooth T has a strong fanbase should be a sentence that shouldn't even make it into the final draft of this article. Ignore! 12 years and counting and he's only getting better. Take the opening of Tyler's set for instance. As the beat for "Igor's Theme" began, everyone was screaming. Your man stood in the center of the curtain looking stage left and never moved a la Narduwar and people were losing their minds. I know that Tyler's audience range is young. From the white girl asking people in the lobby if they were 21 so they could buy her alcohol to the teen white boys smoking wacky tobacky fours rows ahead of me; I honestly almost snitched on all three of y'all, but I didn't want to kill the fun of adolescence. There were several times when I actually appreciated being at this concert with those that bared the traits of being young and dumb.
The young man understands relationships. Igor is brilliant in the sense for knowing how to portray the blame and victim of break-up. Wolf Haley knows that fans love him and he does he best put on a show for them. From the lights, the visuals projected onto the curtain to create enough clones to march with Tyler as he performed "See You Again," pyrotechnics for "Who Dat Boy," the piano he only used for a crowd-only sing-along rendition "Earfquake," to his personal dance studio, every inch of the stage was integral for the performance especially the raised platform as he debuted a cool, slower version of "Gone." The hysterical screams when the curtains moved was a little too much for me, but this was another instance of me being cynical. I checked setlist.fm so I'm not disappointed when I know which songs aren't going to be performed. I also understand why some people would want that surprise. "Tamale" was the song that actually made me jump up and down, but it was "Yonkers" that got the biggest reaction in the building. Y'all really thought he wasn't going to perform that song that introduced him to everybody? I wondered if certain lines or slurs would be omitted in its present presentation, but nah, he kept that same energy because you can't erase your past truths in your art if transparency is your currency. Matter and change, but I will never forget the lesson I learned from this show.